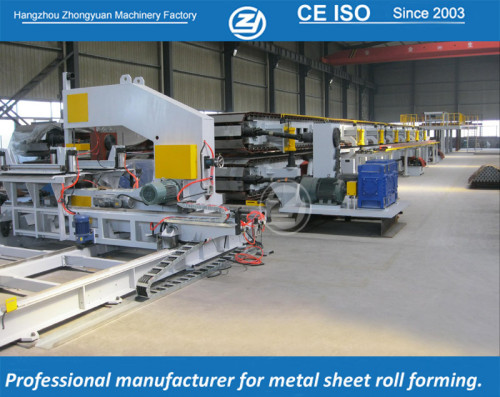 Continuous automatic PU sandwich panel line with ISO quality system | ZHONGYUAN
Description
Description of PU Sandwich Panel Production machine

Our PU sandwich panel Production line is one line that integrates advanced mechanical, chemical, electrical, hydraulic, and pneumatic technologies.
Sandwich Panel Spec
Min. cutting length
3 meters
Max. stacking length
15m
Panel width
1000mm (can be designed as per client's requirment)
Panel thickness
Mini thickness
30mm (corrugated sandwich panel)
50mm (wall panel)
Max. thickness
150mm(exclude corrugated sandwich panel)
Sandwich Panel Spec
Min. cutting length
0.4-0.7mm color steel sheet
Max. stacking length
1250mm (can be designed as per client's requirement)
Panel width
10 tons
Panel thickness
508mm
Whole Line Spec
Working speed
About 3-7m/min (adjustable)
Total length
About 105m
Working height
1200mm (height of panel coming out)
Pressure for foaming
150-200 bar
Double belt conveyor
23m
Control mode
Mitsubishi PLC and converter
Total power
About 100Kw (as per final designing)
Power required
380V/3phase/50Hz or as per customer's requirement.
Air pressure
0.7Mpa (for buyer to prepare)
Product application
Due to its high efficiency and simple operation, this forming machine is widely used in the construction of steel structure enclosures, cold storage, and mobile buildings. In order to satisfy various customer requirements, we design and manufacture PU sandwich panel production lines in different specs, models and configurations.
Roll forming system

RRoll forming machines to form panels` up and down sheets. Machines lifetime can be more than 10 years.
Double conveyor system

23m double belts conveyor make panels more even.
Automatic band saw cutting system

Band saw cutting style cut panels automatically according to set length.
Automatic Controller

Mitsubishi PLC controller with automatic mode and manual mode, realize continuous production.
finished product to show
PU sandwich panel from machine Roof panel
Wall panel
If you want to select products through the finished product display, please click here

See more product demonstrations